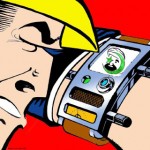 It seems that "get your mobile site here" is a bandwagon that everyone is jumping on. I've been doing a lot of research and I hope I can save you some time by clearing away the clutter and giving you just the facts-Jack.
FUN FACTS:
•    There are 5.9 billion mobile subscribers (that's 87 percent of the world population).
•    61.3 percent of handsets sold in 2011 were not smartphones, they were feature phones; 94 percent of all phones sold were not Apple.
Still, the mobile web is growing exponentially, and depending on how you perceive your incoming customers, you may need a mobile website sooner or later. Here's 4 ways to get one:
1.    If you have a WordPress site you can use plugins like WPmobile or Wapple to put up a mobile version of your blog.
Pro: It's easy if you know how to upload and configure plugins. You'll get a mobile version of your blog postings
Con:. If you use WordPress as a website, your custom pages, features or home page may be left out. Plugins may not be compatible with premium (custom purchased) themes.
2.    Use an online service like www.getgomobi.com or www.wix.com
Pro: You can make a mobile site online with no web design knowledge and have it working in an as little as an hour.  If all you want is your contact information and a brief summery of your business, this is a solution.
(I would advise against using Wix.  They are mostly interested in getting hosting contracts.  Their online designer is very limited and they have poor customer service.  Does "visit our knowledge base" paint the picture?
.
Con: Customization is limited.  Many of them offer only a few generic templates. They require a monthly contract and the prices seem to vary wildly; from $7.95 to $49 to $99 a month.  You have to add what they charge for hosting on top, because they keep your mobile site on their servers.  If you opt for free or cheaper versions you will have to carry their advertising banners on your mobile site and with the limited acreage on a phone, they take up a lot of room!
3.    Best so far: Purchasing a years service ($84) at duda mobile  gets you a mobile site that can compares favorably with your main site and you can have proper URL (www.m.yoursite.com) by creating a CNAME on your server. This provider has excellent service by email or phone.
4.    Have the online mobile service create a customized site for you.
Pro: The mobile site will reflect your main site and you will have some personal service.
Con: Prices vary from $50 to $1000. With online services you really don't have any idea who (or where) they are or how well the service will be maintained.
5.    Hire a web designer to make the site for you.
Pro: The custom design will reflect your main site. You will have complete control over the content. You will be able to add features like slideshows, music players, forms and online event registration. You can have a version for Tablets and iPad. The price for the development is a one time fee. Streached over the years to come, it will probably end up costing less than a hosted mobile site.
Con: You have to find a web designer who does mobile sites for a reasonable fee. Oh that's right, you're reading my blog! So, before you get lost in the mobile jungle call or email After9Design to get a free estimate on a mobile website from a real live person and get a mobile site that reflects your branding and impresses your customers
A custom site designed by After9Design can be seen on your smartphone at www.winecountrypainters.com.